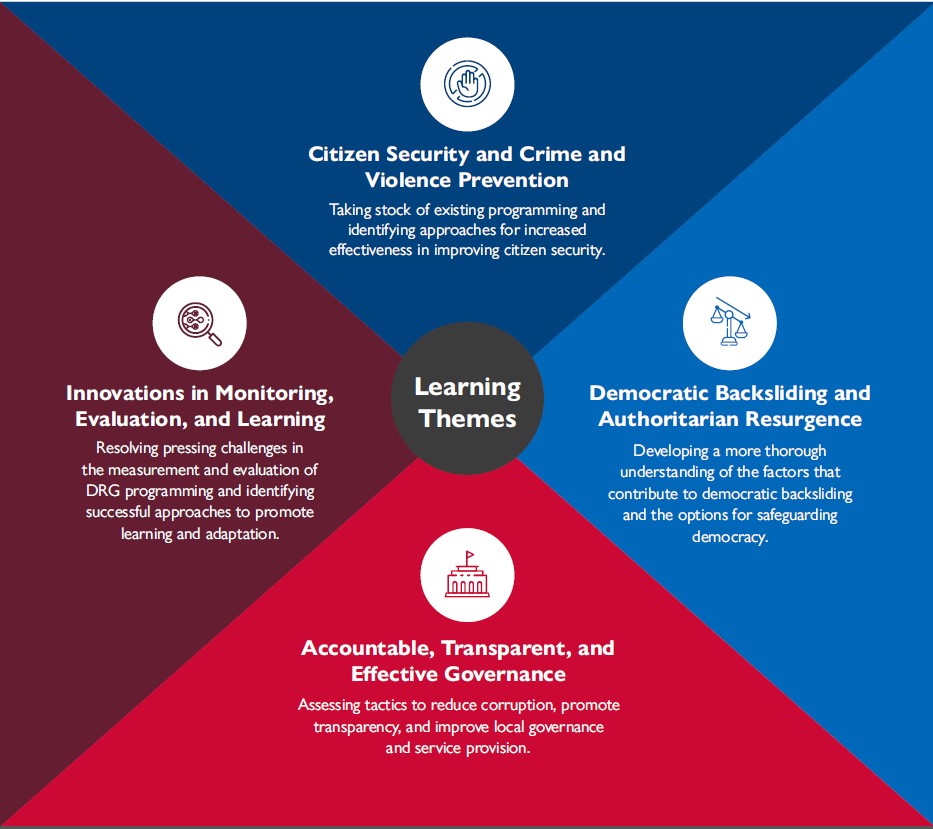 IMPORTANT NOTICE:
ENG - LACLEARN PUBLISHES FY24 Annual Program Statement (APS) for Grants Under Contract (GUCs)
ES - LACLEARN FY24 Annual Program Statement (APS) para Grants Bajo Contrato (GUCs)
FREQUENTLY ASKED QUESTIONS FROM GRANTEE APPLICATIONS
Through the Analytical Services IV (ASIV) Indefinite Delivery Indefinite Quantity (IDIQ) contract, DPI and its joint venture partner, Making Cents International (MCI), provide USAID's DRG Center with analytical expertise for strategic assessments, research activities, surveys, training, and rapid response for political transitions. DPI and MCI are further supported by our technical partners - NORC at the University of Chicago, and Tetra Tech ARD, bringing their proven data analysis and research capacities to the mix for successful implementation of LACLEARN.
The four-year LACLEARN activity supports USAID's programming at the LAC regional and mission levels through gender-informed analytical work and targeted analytical activities in transition environments that require rapid response programming support. Targeted short-term technical and analytical interventions are provided until other more long-term mechanisms can be mobilized.
DPI is currently implementing several analytical activities under the Task Order, including developing a regional DRG Learning Agenda. The Agenda serves the purpose of defining learning questions, prioritizing thematic areas, addressing critical knowledge gaps on key DRG challenges in the LAC region, and guiding investments and programming. The LAC DRG learning agenda was developed in consultation with the USAID LAC Bureau and relevant Functional Bureaus, with the agenda's priority themes (citizen security and crime and violence prevention; democratic backsliding and authoritarian resurgence; accountable, transparent, and effective governance; innovations in monitoring, evaluation, and learning) and related questions finalized in August 2021, with corresponding learning activities and products to come through September 2024.
Other activities under LACLEARN include providing analysis of regional trends in democratic norms and attitudes (the El Salvador report can be found here); conducting regional assessments of GBV impunity (Jamaica Case Study can be found here); conducting assessments of citizen security, rule of law, and human rights in Haiti; conducting a conflict and violence assessment in Honduras; and conducting a study on the impacts of extortion in the Northern Triangle.
LACLEARN fact sheet can be found here.